| | | |
| --- | --- | --- |
| | GSM PHONES | |
| | | |
| --- | --- | --- |
| | Verizon Phones | |
| | | |
| --- | --- | --- |
| | OTHER GADGETS | |
Sign-up and Save!:
Exclusive offers and helpful tips from eWireless experts monthly email newsletter.
Register | Update Profile
There are currently no product reviews
Blackberry Torch Slider 9800 WiFi 4GB Memory Touchscreen AT&T UNLOCKED World Smart Phone - Red
$599.95
$426.77
| | | |
| --- | --- | --- |
| | Quick Find | |
GBoard for Android Adds Editing and Customization Tools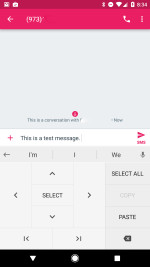 GBoard for Android gained a handful of helpful new features thanks to a fresh update from Google. The keyboard application now comes with a dedicated text editing mode that includes buttons for common actions such as copy, cut, and paste. Moreover, cursor control has been refined and is simpler to use. These tools can be reached by pressing the G button. Gboard now also allows users to resize the keyboard and reposition it on the screen for improved one-handed use. This can be particularly helpful on phones with large screens. Last, GBoard adds a significant number of new Indic languages, including Hindi, Bengali, Telugu, Marathi, Tamil, Urdu, and Gujarati, complete with transliteration. Google says machine learning has helped it expand GBoard to a total of 185 languages, all with glide-typing support. GBoard for Android is free to download from the Google Play Store.
---
Unlocked BlackBerry Keyone Goes On Sale May 31; Sprint Version Arrives This Summer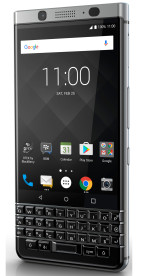 TCL today announced that the BlackBerry Keyone, a smartphone it developed with BlackBerry Mobile, will be available to U.S. buyers starting May 31. The handset includes a 4.5-inch touch display and full QWERTY keyboard. Other features include a Snapdragon 625 processor, 12-megpixel camera, LTE, and Android 7.1 Nougat with BlackBerry Hub and BlackBerry Messenger. TCL plans to sell both the unlocked GSM and CDMA variants of the phone directly to consumers online for $549. The company noted that Sprint will sell the phone with service plans later this summer. TCL said more details about the Sprint version will be shared towards the end of May.
---
FCC Chairman Pai Takes First Steps to Reverse Net Neutrality
Ajit Pai, Chairman of the FCC, today outlined his plan to remove the Title II classification from broadband services and kill off net neutrality laws put in place by the Commission two years ago. In a sometimes fiery and heavily partisan statement, Pai suggested that the previous Commission made an incredible mistake by re-classifying broadband under Title II and installing bright line rules that could not be broken. Pai claims these changes reduced investment in infrastructure by billions of dollars, prevented the formation of more than 100,000 jobs, and reduced choice for Americans. Pai will publish a Notice of Prosed Rulemaking on April 27 with the full context of his plan, allowing the public a chance to view it before it is adopted by the Commission. Among his goals are to re-classify broadband as a Title I information service and return the FCC's regulatory behavior to the "light-touch" environment he says the internet enjoyed between 1996 and 2015. Pai suggests this path will improve internet speeds, create jobs, foster innovation, and protect consumers' privacy. "We need rules that focus on growth and infrastructure investment, rules that expand high-speed internet access everywhere and give Americans more online choice, faster speeds, and more innovation. And we are going to deliver," said Pai. Some industry groups and companies were quick to commend Pai for the new direction he is taking the FCC, while a number of other businesses vowed to fight Pai's agenda as fiercely as possible.
---
Google Trips Refreshed with More Manual and Automatic Controls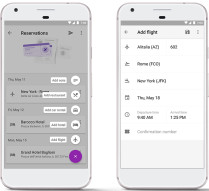 Google today announced several new features for its Google Trips tool. Trips already will automatically create travel cards based on user emails with flight, hotel, and car reservations. The new version of Google Trips now lets people simply and manually enter new details for these and other aspects of their trip, in addition to freeform travel notes, to accommodate last-minute changes. Travel cards can be shared directly with others via email so everyone has access to the trip details ahead of time. Trips gains better access to bus and train travel data, too, and can save previous trips, routes, and time schedules to help people plan new adventures. Last, Trips now allows people to download their travel data to their handset for offline access. Google Trips is free to download from the Google Play Store and iTunes App Store.
---
Google Assistant Can Help You Channel Your Inner Julia Child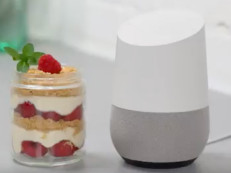 Google today updated its Google Home product with the ability to walk people through various recipes. Google Assistant can dictate step-by-step cooking instructions for more than 5 million recipes. Google says people need only pick a recipe from the Google Search app on their iOS or Android smartphone and hit the new "Send to Google Home" button to save the recipe to their Google Assistant. The recipe can be recalled anytime on the Google Home by using the "Ok Google, start cooking" command. Google Home will then guide people through the recipe until it is done. People will be able to ask questions about specific steps along the way, as well as listen to music, make measurement conversions, set timers, and more. Google said the new feature is being rolled out over the next few weeks. Google didn't say if the recipe tool will be available from Android smartphones that include Google Assistant.
---
Google Maps Improves Parking Spot Finder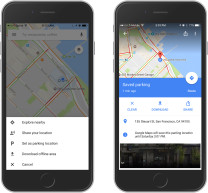 Google has this week made good on previous promises to make it easier for people to locate their cars after parking them. Maps for Android and iOS is being updated with a dedicated "Save Your Parking" tool that lets people not only pinpoint the location of their car on a map, but add details such as floor level, section, or parking spot for large parking structures. Further, Maps users can set timers to coincide with parking meters complete with custom alerts before the meter runs out. Last, people will also be able to share their parking location with others in instances that require people to meet at a parked car. On iOS devices connected to cars via Bluetooth, Maps will automatically record the parking spot when the owner disconnects and walks away from the vehicle. Google Maps has offered rudimentary parking spot help for some time. These new features allow people to take more control and add details that Maps didn't previously offer. Google Maps for Android and iOS is free to download from the Google Play Store and iTunes App Store, respectively.
---
Chrome for Android Speaks More Languages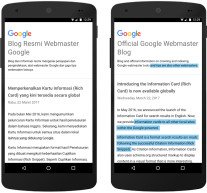 Google today announced several improvements headed to its Chrome browser for Android devices. Primarily, the newest version of Chrome is better at translating languages. Google says Chrome is gaining neural machine translation for nine more language pairs including to and from English for Indonesian and eight Indian languages: Bengali, Gujarati, Kannada, Malayalam, Marathi, Punjabi, Tamil, and Telugu. Google says neural machine translation will improve how web sites in English read when translated to these languages. Chrome for Android is also improving the behavior of downloads and making it easier to manage the app's browsing history. Chrome for Android is free to download from the Google Play Store.
---
Sprint Offering Fifth Unlimited Line for Free
Sprint today made it more affordable for large families to enjoy its Unlimited Freedom service. Moving forward, the fifth line added to an Unlimited Freedom plan will be free. Sprint charges $50 per month for a single line of unlimited data, talk and text. Two lines cost $80 per month, four lines cost $120 per month, and now five lines also cost $120 per month. Sprint's Unlimited Freedom plans to face some serious caveats. To start, these monthly prices are only available through June 30, 2018. After that time subscribers will see monthly prices jump to $60 for a single line, $100 for two lines, and $130 for three-five lines. Further, these prices all reflect a $5 discount per line when the subscriber enrolls in AutoPay. Sprint's Unlimited Freedom plan allows for full HD video streaming, 1.5 Mbps music streaming, and gaming at up to 8 Mbps, but customers will see their speeds slowed when the network is congested.
---
Verizon Debuts $80 Unlimited Plan for Prepaid Service
Verizon Wireless today added an unlimited data option to its series of prepaid plans. According to Verizon's web site, the new $80 plan includes unlimited high-speed service without a contract, though video is capped at 480p and prepaid customers may see slower speeds when the network is congested. Moreover, the plan does not include mobile hotspot or tethering, nor did Verizon say just how fast its unlimited prepaid LTE service is. The plan also includes unlimited talk and text in the U.S., unlimited messaging from the U.S. to 200 countries, and unlimited talk to Canada and Mexico. For those who don't need unlimited service, Verizon's other prepaid plans include 2 GB for $40 per month, 5 GB for $50 per month, or 10 GB for $70 per month. These plans all include carryover data, but will throttle customers who exceed their monthly data bucket. The new $80 unlimited prepaid plan is available starting today.
---
AT&T Says '5G Evolution' to Reach 20 Markets This Year
AT&T said customers who own the Samsung Galaxy S8 and S8+ will have access to enhanced wireless service in Austin starting today. Austin serves as the first market for what AT&T is calling "5G Evolution" service, an effort to modernize and improve its network ahead of the official adoption of the 5G specification by international standards bodies. AT&T plans to take advantage of improved LTE 4G network technologies such as small cells, network densification, carrier aggregation, 4x4 MIMO, and 256 QAM to provide real-world speed and latency improvements. The company didn't provide any guidance on what sort of speeds S8 and S8+ owners in Austin will actually experience other than to indicate 5G Evolution will be up to twice as fast as its existing LTE 4G service. AT&T will light up 5G Evolution in Indianapolis this summer with markets including Atlanta, Boston, Chicago, Los Angeles, Nashville, San Francisco, and others to go live by the end of the year. Further, AT&T said it will have "numerous other" 5G Evolution-capable devices available by the end of the year. All four major carriers are moving forward with 5G technology trials despite the fact that the final standard has not been ratified. AT&T's so-called 5G Evolution is "5G" in name only.
---
Inexpensive ZTE Prestige 2 Hits Boost and Virgin Mobile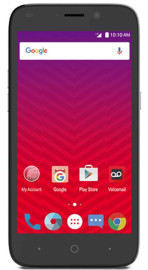 Sprint's prepaid brands Boost Mobile and Virgin Mobile today launched the ZTE Prestige 2, an entry-level Android handset. The Prestige 2 has a 5-inch FWVGA display and it is powered by a 1.1 GHz quad-core processor with 2 GB of RAM and 16 GB of storage. The phone has two 5-megapixel cameras, one on the front and one on the back. The main camera has a flash. Other specs include a 2,035mAh battery, memory card support, HD voice, roaming in Mexico, mobile hotspot, and LTE 4G. The phone costs $80, but Boost Mobile is selling it online for $52. Virgin Mobile is offering the ZTE Prestige 2 for $50. It runs Android 6 Marshmallow.
---
U.S. Cellular Lands the 6-Inch ZTE Blade Max 3
U.S. Cellular recently added the ZTE Blade Max 3 to its roster of Android smartphones. The Max 3 is similar to the Max XL in that it has a 6-inch full HD display with 2.5D Gorilla Glass and huge 4,000mAh battery. The handset is powered by a 2 GHz octa-core Snapdragon 625 processor with 2 GB of RAM and 16 GB of internal storage. The Max 3 includes dual rear 13-megapixel cameras, with one that captures full color and one that captures black-and-white to assist with contrast and focus. The user-facing camera has a 5-megapixel sensor. Other features include a rear-mounted fingerprint reader, high-fidelity audio, USB-C, memory card support, and GPS, Bluetooth, and WiFi radios. The ZTE Blade Max 3 is available from U.S. Cellular's web site for $200.
---
ZTE Max XL Packs 6-Inch Full HD Screen for $130
ZTE today announced the Max XL, a big-screened Android smartphone headed to Boost Mobile. The Max XL's defining features are the 6-inch full HD display and massive 3,990mAh battery. The screen is protected by Gorilla Glass. ZTE says the Max XL is also the first for Boost Mobile to include support for HPUE for better LTE speeds at the network edge. HPUE is a technology Boost Mobile parent company Sprint is working to deploy this year. The Max XL's main camera has a 13-megapixel sensor, while the front camera has a 5-megapixel sensor. The device runs Android 7.1.1 Nougat and includes a rear-mounted fingerprint reader. Other specs include an octa-core 1.4 GHz Qualcomm Snapdragon processor with 2 GB of RAM and 16 GB of storage, support for memory cards, WiFi, Bluetooth, GPS, and FM radio. The ZTE MAX XL smartphone is available online today at Boost Mobile for $129.99.
---
LG G6 vs. Samsung Galaxy S8: Buying Points to Consider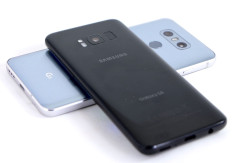 Can't decide between the LG G6 and Samsung Galaxy S8? It's a tough choice, to be sure. These appealing Android smartphones represent the best from LG and Samsung by breaking new ground in design and refining core features along the way. Here are how these two phones compare head-to-head on a handful of essential buying points.
---
Google to Automatically Translate Local Reviews
Google today said travelers will have access to a wider range of local reviews thanks to new translation features. Moving forward, Google said it will automatically translate reviews of restaurants, theaters, and other locations into the language you've set on your device. The translated reviews will be followed by the original. This feature is available to Google Search and Google Maps.
---
Apple Spits Out Fourth Round of iOS, WatchOS Betas
Apple today made iOS 10.3.2 Beta 4 available to developers. Apple hasn't provided any specific details about what's in iOS 10.3.2; it likely focuses on resolving bugs and smoothing over performance issues. Apple also made fourth betas of watchOS 3.2.2, macOS Sierra 10.12.5, and tvOS 10.2.1 available to developers. Apple hasn't indicated if or when these new in-progress operating systems will be released to public beta testers. Public betas typically drop a day or two after the developer betas. Consumers interested in testing pre-release software will need to register their Apple device, such as the iPhone 7, in order to receive beta builds of iOS and other platforms.
---
Sony's Mid-Range Xperia XA1 Goes On Sale May 1 for $300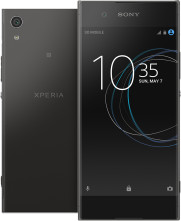 Sony today announced the XA1 will be available to purchase online starting May 1. Internet retailers including Amazon, Best Buy, B&H, BrandsMart, Fry's, and others will offer the phone unlocked for $299.99. The XA1, announced earlier this year, has a 5-inch 720p screen and 2,300mAh battery. It is powered by a MediaTek octa-core Helio P20 processor with the Mali T880 GPU accompanied by 3 GB of RAM and 32 GB of storage. The device supports microSD memory cards up to 256 GB. It has a 23-megapixel Exmor RS main camera with a 24mm lens and an aperture of f/2.0, and an 8-megapixel selfie cam. Other specs include USB-C, Qnovo adaptive charging, rapid charging, Cat 6 LTE, and Android 7 Nougat. It is being offered in white, black, pink, or gold.
---
Samsung to Issue Software Patches for Galaxy S8
Samsung today said it will push two software updates to its Galaxy S8 smartphone to resolve issues with screen tint and WiFi connectivity. Some S8 owners claim their devices have a reddish tint to the screen, while others say they cannot connect to WiFi networks. Samsung insists there are no actual defects in the device itself and that the updates are being distributed "for consumer comfort." The first patch will address the tint issue, giving consumers "a further enhanced ability to adjust the color setting to their preference." The second patch targets phones sold by a specific carrier in South Korea and will be only be issued there. The Galaxy S8 and S8+ went on sale in the U.S. on April 21 and in S. Korea a few days before that. Samsung says pre-orders for the device have been strong, particularly in its home market of Korea. The company did not share first-weekend sales figures. The phones are the first high-end devices to ship from Samsung after its failed Note7 last year, which was recalled due to battery problems.
---
Samsung Galaxy S8 and Galaxy Amp Prime 2 Available from Cricket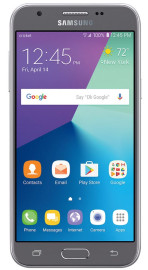 Cricket Wireless today added two new Samsung handsets to its list of devices. First, the Galaxy S8 is available for purchase from Cricket stores. Cricket is charging $699.99 for the handset, a $50 savings off list price, when the S8 is activated on a new line. Second, Cricket debuted the Galaxy Amp Prime 2 (pictured), a low-cost Android phone. The Amp Prime 2 features a 5-inch 720p HD screen with a 1.35 GHz quad-core processor and 16 GB of storage. The phone includes 5- and 2-megapixel cameras on the back and front respectively, and a 2,600 mAh battery. Other features include LTE, Bluetooth WiFi, and support for memory cards up to 256 GB. The Samsung Galaxy Amp Prime 2 runs Android 7 Nougat and costs $150.
---
Google Play Music to Be Default Music Player on All Samsung Devices
Google and Samsung today said starting with the launch of the Galaxy S8 and S8+, Google Play Music will be the default music player and music service on Samsung phones and tablets globally. Consumers who buy the S8 or S8+ will receive a free three-month trial of Google Play Music, which offers ad-free access to some 40 million tracks. The trial also includes YouTube Red, an ad-free version of YouTube. Moreover, Samsung device owners will receive special features from Google. To start, S8 and S8+ buyers will be able to upload up to 100,000 of their own tracks to Google Play Music for safekeeping (double the standard amount.) Google says more custom features for Samsung phones are on the way. Last, Google Play Music will be compatible with Samsung's Bixby voice assistant when Bixby launchers later this spring. Galaxy S8 and S8+ owners will be able to ask Bixby to play their favorite song and it'll start playing on Google Play Music instantly. The Samsung Galaxy S8 and S8+ go on sale today.
---